Robin Ground/Table Mix
Robin Ground/Table Mix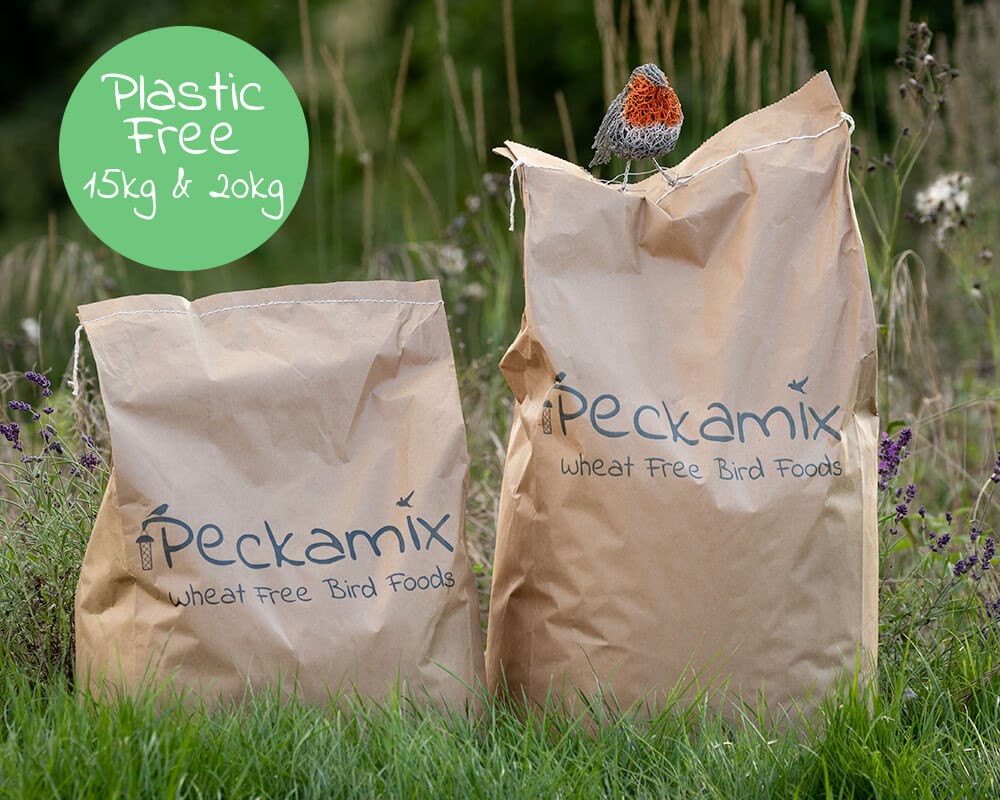 Our Robin Mix has been designed with the nations favourite bird in mind, containing dried mealworms and suet pellets this mix is perfect for attracting Robins as well as a wide range of ground and table feeding birds including blackbirds and thrushes.
Suitable for feeding all year round from the ground or a bird table this mix contains high levels of protein to support birds through the breeding season in the spring and annual moult in the late summer, as well as providing a great energy source to help birds survive the colder winter months.
Due to containing sultanas this mix is not suitable to feed near cats or dogs, please see our Pet Safe Robin Mix.
As with all our bird food mixes, this Robin Mix has no fillers or whole wheat and has been hand mixed in the UK.
Please note: 15kg comes in 3x 5kg bags for optimal freshness and easy handling.
Composition:
Sunflower Hearts, Rolled Naked Oats, Peanut Granules, Pinhead Oats, Suet Pellets, Sultanas, Mealworms
Feeder Style:
Hanging Feeder, Ground, Bird Table
Enjoyed By:
Blackbird, Blue Tit, Brambling, Bullfinch, Chaffinch, Coal Tit, Collared Dove, Crested Tit, Dunnock, Fieldfare, Goldfinch, Great Spotted Woodpecker, Great tit, Greenfinch, Hawfinch, House Martin, House Sparrow, Jackdaw, Lesser Redpoll, Linnet, Long Tailed Tit, Magpie, Marsh Tit, Mealy Redpoll, Mistle Thrush, Nuthatch, Pied Wagtail, Red Wing, Robin, Reed Bunting, Rook, Siskin, Skylark, Song Thrush, Starling, Stonechat, Tree Creeper, Tree Sparrow, Willow Warbler, Wren
| Size | £/kg | Price | * Saving |
| --- | --- | --- | --- |
| 1.5kg - In Stock | £3.33 | 5.00 | £0.00 |
| 3kg - In Stock | £3.00 | 9.00 | £0.99 |
| 5kg - In Stock | £2.40 | 12.00 | £4.65 |
| 15kg (3x 5kg) - In Stock | £2.00 | 29.99 | £19.95 |
| 15kg Paper Sack - In Stock | £2.00 | 29.99 | £19.95 |
| 20kg (4x 5kg) - In Stock | £2.00 | 39.99 | £26.60 |
| 20kg Paper Sack - In Stock | £2.00 | 39.99 | £26.60 |
* Savings are based on the first row being the base £/kg price
"Jean" - Jean
Delivered very quickly and excellent product. All the birds like this product not just the robins.
16th June 2021
"Robin mix" - Simon
As always excellent service. Ordered online as click and collect. Ready next day and collected same day. Greeted with a smile and a little chat.
28th May 2021