Pet Safe Robin Ground/Table Mix
Pet Safe Robin Ground/Table Mix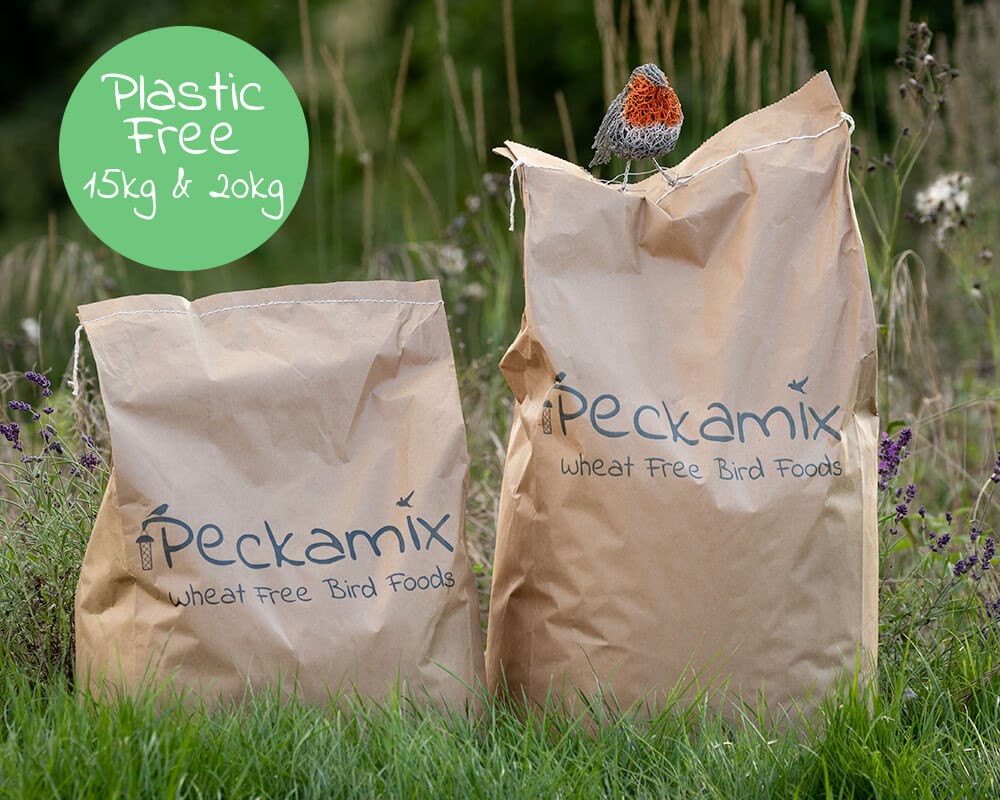 Our Pet Safe Robin Mix is based on our popular Robin Mix but does not contain sultanas to ensure it is suitable to be fed in gardens with cats and dogs.
Containing dried mealworms this mix is attractive to wild birds such as Robins, as well as other insect eating birds when fed from a bird table or the ground.
Perfect for all year round feeding our Pet Safe Robin Mix contains high protein and energy levels to support garden birds throughout each of the seasons.
As with all our bird food mixes, our Pet Safe Robin Mix contains no wheat or fillers and is hand mixed in the UK.
Please note: 15kg comes in 3x 5kg bags for optimal freshness and easy handling.
Composition:
Sunflower Hearts, Rolled Naked Oats, Peanut Granules, Pinhead Oats, Suet Pellets, Kibbled Maize, Mealworms
Feeder Style:
Hanging Feeder, Ground, Bird Table
Suitable for all year round feeding.
Enjoyed By:
Blackbird, Blue Tit, Brambling, Bullfinch, Chaffinch, Coal Tit, Collared Dove, Crested Tit, Dunnock, Fieldfare, Goldfinch, Great Spotted Woodpecker, Great tit, Greenfinch, Hawfinch, House Martin, House Sparrow, Jackdaw, Lesser Redpoll, Linnet, Long Tailed Tit, Magpie, Marsh Tit, Mealy Redpoll, Mistle Thrush, Nuthatch, Pied Wagtail, Red Wing, Robin, Reed Bunting, Rook, Siskin, Skylark, Song Thrush, Spotted Flycatcher, Starling, Stonechat, Tree Creeper, Tree Sparrow, Willow Warbler, Wren
| Size | £/kg | Price | * Saving |
| --- | --- | --- | --- |
| 1.5kg - In Stock | £3.33 | 5.00 | £0.00 |
| 3kg - In Stock | £3.00 | 9.00 | £0.99 |
| 5kg - In Stock | £2.40 | 12.00 | £4.65 |
| 15kg (3x 5kg) - In Stock | £2.00 | 29.99 | £19.95 |
| 15kg Paper Sack - In Stock | £2.00 | 29.99 | £19.95 |
| 20kg (4x 5kg) - In Stock | £2.00 | 39.99 | £26.60 |
| 20kg Paper Sack - In Stock | £2.00 | 39.99 | £26.60 |
* Savings are based on the first row being the base £/kg price
"Recent order," - Yvonne
Thank you for my recent order.As usual the service from ordering to receiving my order of Peckamix bird food is always very good.The birds in my garden are very varied and they all seem to enjoy their food.I think the proof is in the fact i refill 14 feeders almost every day and all the food is eaten either from the feeders or ground.Peckamix is very competative with their prices and you can order safely.Thank you.
12th January 2021
"top quality feed" - cookie
no waste top quality feed and tripled the variety and volume of birds to the feeders
5th January 2021