Robin Ground & Bird Table Mix
Robin Ground & Bird Table Mix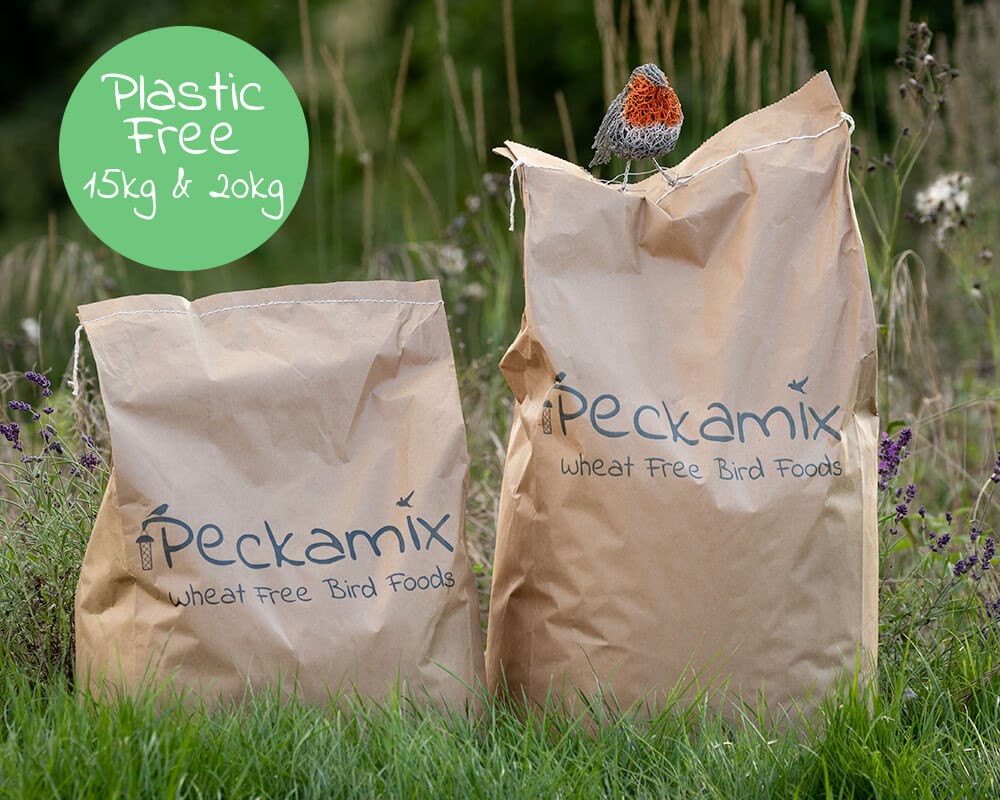 New for 2022, we have simplified our bird table seed mixes and combined the best bits from all four previous mixes, into one ultimate Robin Ground & Bird Table Mix.
What Birds Like This Mix?
This mix is perfect for Robins and other soft-billed ground feeding birds such as Blackbirds and Dunnocks.
How Do I Feed This Mix?
The Robin Ground & Bird Table Mix is designed to be fed from a ground feeder or bird table.
Can I Feed This Mix All Year Round?
Absolutely, the mix contains high energy suet pellets, oil-rich sunflower hearts and protein packed dried mealworms, perfect for every season.
Can This Mix Be Fed Around Pets?
This mix does not contain any sultanas or raisins.
Recyclable Packaging:
This mix is available in plastic free 15kg Paper Sack and 20kg Paper Sack options. Our smaller bag sizes (1.5kg, 3kg and 5kg) are made of a recyclable plastic. The plastic bags can be recycled at many supermarkets and other collection points. For more details and to find your nearest collection point, please read our recyclable packaging page.
No Fillers:
As with all our bird seed mixes, our Robin Ground & Bird Table Mix contains no whole wheat or filler ingredients and is hand mixed by us in the UK.
Composition:
Sunflower Hearts, Rolled Naked Oats, Peanut Granules, Pinhead Oats, Suet Pellets, Kibbled Maize, Dried Mealworms
Feeder Style:
Ground Feeder, Bird Table
Suitable for all year round feeding.
Enjoyed By:
Blackbird, Blue Tit, Brambling, Bullfinch, Chaffinch, Coal Tit, Collared Dove, Crested Tit, Dunnock, Fieldfare, Goldfinch, Great Spotted Woodpecker, Great tit, Greenfinch, Hawfinch, House Martin, House Sparrow, Jackdaw, Lesser Redpoll, Linnet, Long Tailed Tit, Magpie, Marsh Tit, Mealy Redpoll, Mistle Thrush, Nuthatch, Pied Wagtail, Red Wing, Robin, Reed Bunting, Rook, Siskin, Skylark, Song Thrush, Spotted Flycatcher, Starling, Stonechat, Tree Creeper, Tree Sparrow, Willow Warbler, Wren
| Size | £/kg | Price | * Saving |
| --- | --- | --- | --- |
| 1.5kg - In Stock | £3.67 | 5.50 | £0.00 |
| 3kg - In Stock | £3.33 | 9.99 | £1.02 |
| 5kg - In Stock | £2.80 | 13.99 | £4.35 |
| 15kg (3x 5kg) - In Stock | £2.27 | 33.99 | £21.00 |
| 15kg Paper Sack - In Stock | £2.27 | 33.99 | £21.00 |
| 20kg (4x 5kg) - In Stock | £2.20 | 43.99 | £29.40 |
| 20kg Paper Sack - In Stock | £2.20 | 43.99 | £29.40 |
* Savings are based on the first row being the base £/kg price
"Bird food" - Samantha Johnson
Excellent service
Thank you
15th May 2022
"Excellent foods, " - Frangran
Always good products, goes down down well with our feathered friends, prompt delivery
7th May 2022