Autumn/Winter Feeder Mix
Autumn/Winter Feeder Mix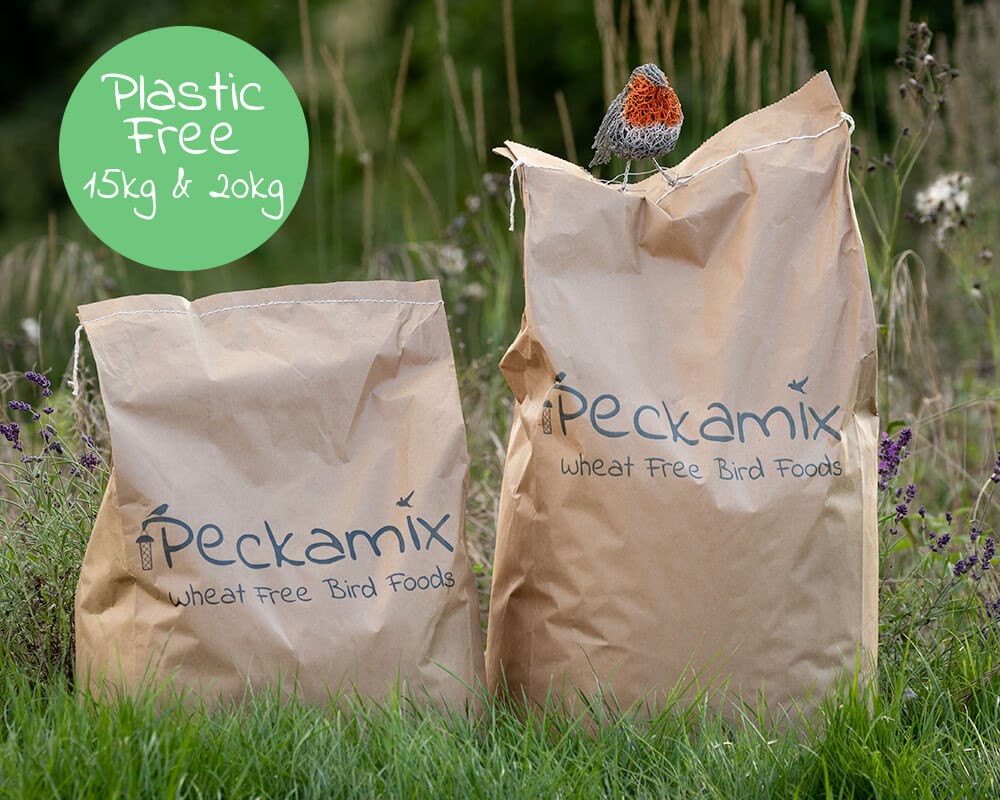 Our whole wheat free Autumn/Winter Feeder seed mix with mealworms and suet is specially designed to be fed from a hanging tube feeder, containing high quality ingredients catering to a wide range of hanging feeder birds without any fillers or undesirable seeds included.
This mix is tailored to suit the colder autumn winter months, containing suet for extra energy. Sure to be a big hit in your garden!
As this mix contains premium ingredients such as hemp, mealworms, suet and high quantities of sunflower hearts it's loved by a wide variety of birds, meaning less waste and better value. Cheaper seed mixes on the market contain high quantities of filler ingredients such as whole wheat, dari and split peas which get picked out by the majority of garden birds, attracting pests and wasting food.
As with all our seed mixes, the Autumn/Winter Feeder Mix is hand mixed in Hampshire at the time of ordering for optimal freshness and contains no fillers or whole wheat!
Please note: 15kg comes in 3x 5kg bags for optimal freshness and easy handling.

Composition:
Sunflower Hearts, Peanut Granules, Black Sunflower Seeds, Suet Pellets, Mealworms, Hemp Seed
Feeder Style:
Hanging Feeder, Ground, Bird Table
Suitable for all year round feeding.
Enjoyed By:
Blackbird, Blue Tit, Brambling, Bullfinch, Chaffinch, Coal Tit, Collared Dove, Crested Tit, Dunnock, Fieldfare, Goldfinch, Great Spotted Woodpecker, Great tit, Greenfinch, Hawfinch, House Martin, House Sparrow, Jackdaw, Lesser Redpoll, Linnet, Long Tailed Tit, Magpie, Marsh Tit, Mealy Redpoll, Mistle Thrush, Nuthatch, Pied Wagtail, Red Wing, Robin, Reed Bunting, Rook, Siskin, Skylark, Song Thrush, Spotted Flycatcher, Starling, Stonechat, Tree Creeper, Tree Sparrow, Willow Tit, Willow Warbler, Wren, Yellow Hammer
| Size | £/kg | Price | * Saving |
| --- | --- | --- | --- |
| 1.5kg - In Stock | £3.33 | 5.00 | £0.00 |
| 3kg - In Stock | £3.00 | 9.00 | £0.99 |
| 5kg - In Stock | £2.40 | 12.00 | £4.65 |
| 15kg (3x 5kg) - In Stock | £2.00 | 29.99 | £19.95 |
| 15kg Paper Sack - In Stock | £2.00 | 29.99 | £19.95 |
| 20kg (4x 5kg) - In Stock | £2.00 | 39.99 | £26.60 |
| 20kg Paper Sack - In Stock | £2.00 | 39.99 | £26.60 |
* Savings are based on the first row being the base £/kg price
"Very pleased" - Ruby
Ordered 3 types and not yet tried this but the birds are loving the summer and no mess mix thoroughly. Arrived quickly and we'll packaged.
23rd May 2021
"The best bird mix" - T D
I am so glad l found peckamix, l have placed several orders now and have never been disappointed with the quality. The delivery is quick and easy, would recommend.
14th May 2021