Sparrow Mix
Sparrow Mix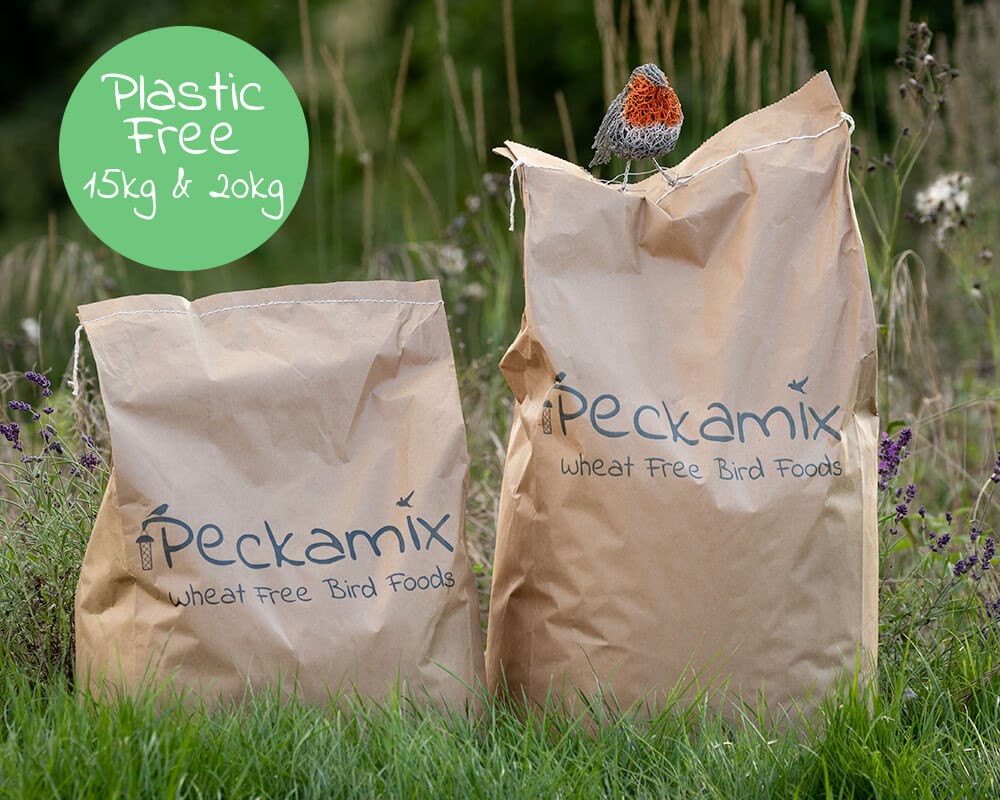 If you are lucky enough to get sparrows visiting your garden, then this is the mix for you!
Our Sparrow Mix uses sunflower hearts as the main ingredient and contains a generous helping of white millet. Sparrows have an incredible ability to break the husk of millet by rolling the seed over their strong tongues, they are one of the few birds capable of doing this.
Just like all our mixes our Sparrow Mix does not contain wheat or filler ingredients, so you can be sure you are providing your wild birds a quality nutritious seed mix to aid their survival all year round.
Recyclable Packaging:
Our Sparrow Mix is available in plastic free 15kg Paper Sack and 20kg Paper Sack options. Our smaller bag sizes (1.5kg, 3kg and 5kg) are made of a recyclable plastic. The plastic bags can be recycled at many supermarkets and other collection points. For more details and to find your nearest collection point, please read our recyclable packaging page.
Please note: 15kg comes in 3x 5kg bags for optimal freshness and easy handling.

Composition:
Sunflower Hearts, Kibbled Peanuts, Dried Mealworms, Hemp Seed, White Millet, Kibbled Maize.
Feeder Style:
Hanging Feeder, Ground, Bird Table
Suitable for all year round feeding.
Enjoyed By:
Blue Tit, Brambling, Bullfinch, Chaffinch, Coal Tit, Collard Dove, Crested Tit, Dunnock, Goldfinch, Great Tit, Great Spotted Woodpecker, Greenfinch, Hawfinch, House Martin, House Sparrow, Lesser Red Poll, Linnet, Long Tailed Tit, Magpie, Marsh Tit, Mealy Red Poll, Mistle Thrush, Pied Wagtail, Reed Buntings, Robin, Siskin, Skylark, Song Thrush, Starling, Stonechat, Tree Creeper, Tree Sparrow, Willow Warbler, Willow Tit, Wren, Yellow Hammer
| Size | £/kg | Price | * Saving |
| --- | --- | --- | --- |
| 1.5kg - In Stock | £3.67 | 5.50 | £0.00 |
| 3kg - In Stock | £3.33 | 9.99 | £1.02 |
| 5kg - In Stock | £2.80 | 13.99 | £4.35 |
| 15kg (3x 5kg) - In Stock | £2.27 | 33.99 | £21.00 |
| 15kg Paper Sack - In Stock | £2.27 | 33.99 | £21.00 |
| 20kg (4x 5kg) - In Stock | £2.20 | 43.99 | £29.40 |
| 20kg Paper Sack - In Stock | £2.20 | 43.99 | £29.40 |
* Savings are based on the first row being the base £/kg price
"Sparrows are enjoying it" - Andrew Blake
Great service, quick delivery and the product is being enjoyed by the sparrows and blue tits that are nesting locally. The packaging is sustainable and recyclable which was important to me when selecting a bird food supplier.
8th May 2022
"Sparrow mix" - Titch
Use this as a ground feed as well for blackbirds and other ground feeders
4th April 2022